With

Travel Companion

, no trip is ever the same!
An interactive, engaging, and family-oriented way to enjoy every road trip!
Joining An Existing Trip?
Need to create a new station?
Get Started
Which road trip game is your favorite?
Scavenger Hunt
Did you see that rainbow? Join your fellow travelers on a friendly (or competitive) game to find as many objects as you can throughout your trip!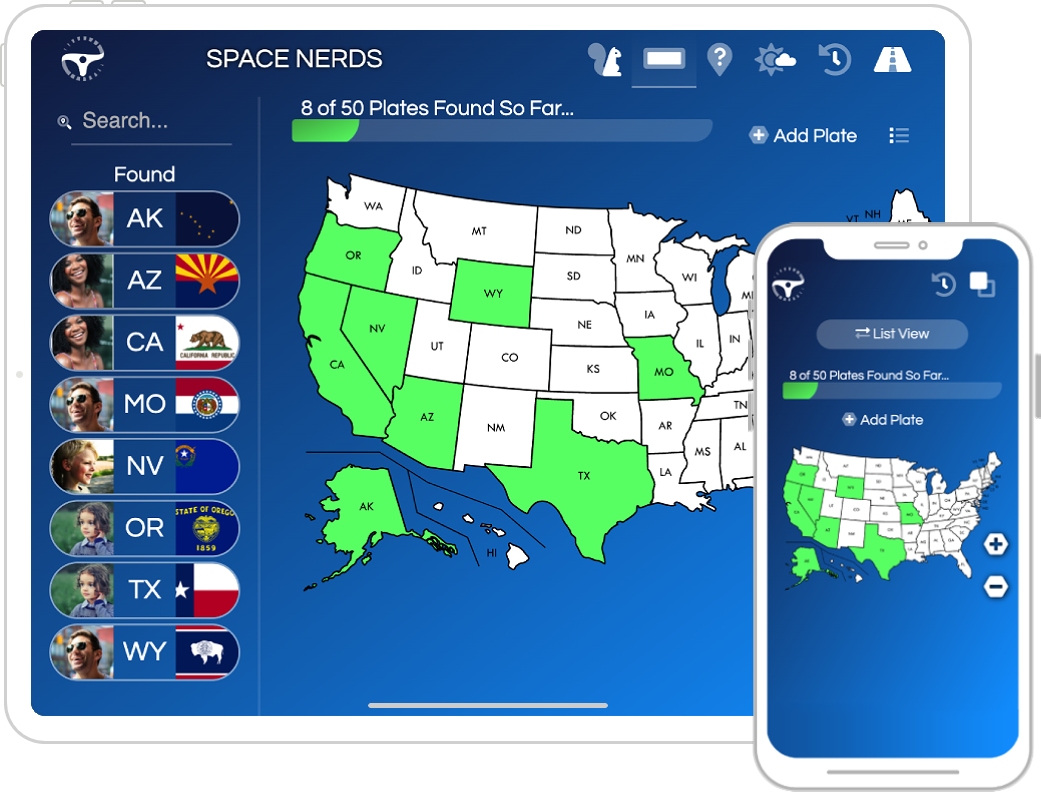 License Plates
A classic game for the whole family. Look for license plates from other states as you take your trip. How many plates can you find?
Modern features for modern travelers!
Are We There Yet?
Weather Page
Station Page
Are we there yet?
You have the answer to the age-old question of every young traveler! Kids young and old will enjoy this simple visualization of your vehicle's trip progress.
Victory Selfies
Post messages and selfies for everyone on the trip to enjoy! Don't worry, it's not bragging if you smile 😊.
Current Weather
A beautiful visualization of the local weather conditions as you travel.
Destination Weather
Stay updated on the current weather conditions at your destination.
Leaderboards
Who's in the lead? As you find objects and plates each traveler will get Travel Coins! Be vigilant and you may come out on top.
Previous Trips
What's better than taking a trip? Remembering all the great times you had on the road! We keep track of every highlight and selfie for your amusement.
Play with

everyone

on your trip.
Use your own device or share a device with others.
Finally!
A reason to use your Tesla™ Browser!
Play on your tablet, smartphone, and Telsa™ browser at the same time.
TRY IT NOW
Points of Interest to
spark your curiosity.
New Points of Interests will be found as you drive through cities all over the United States. Rediscover your America.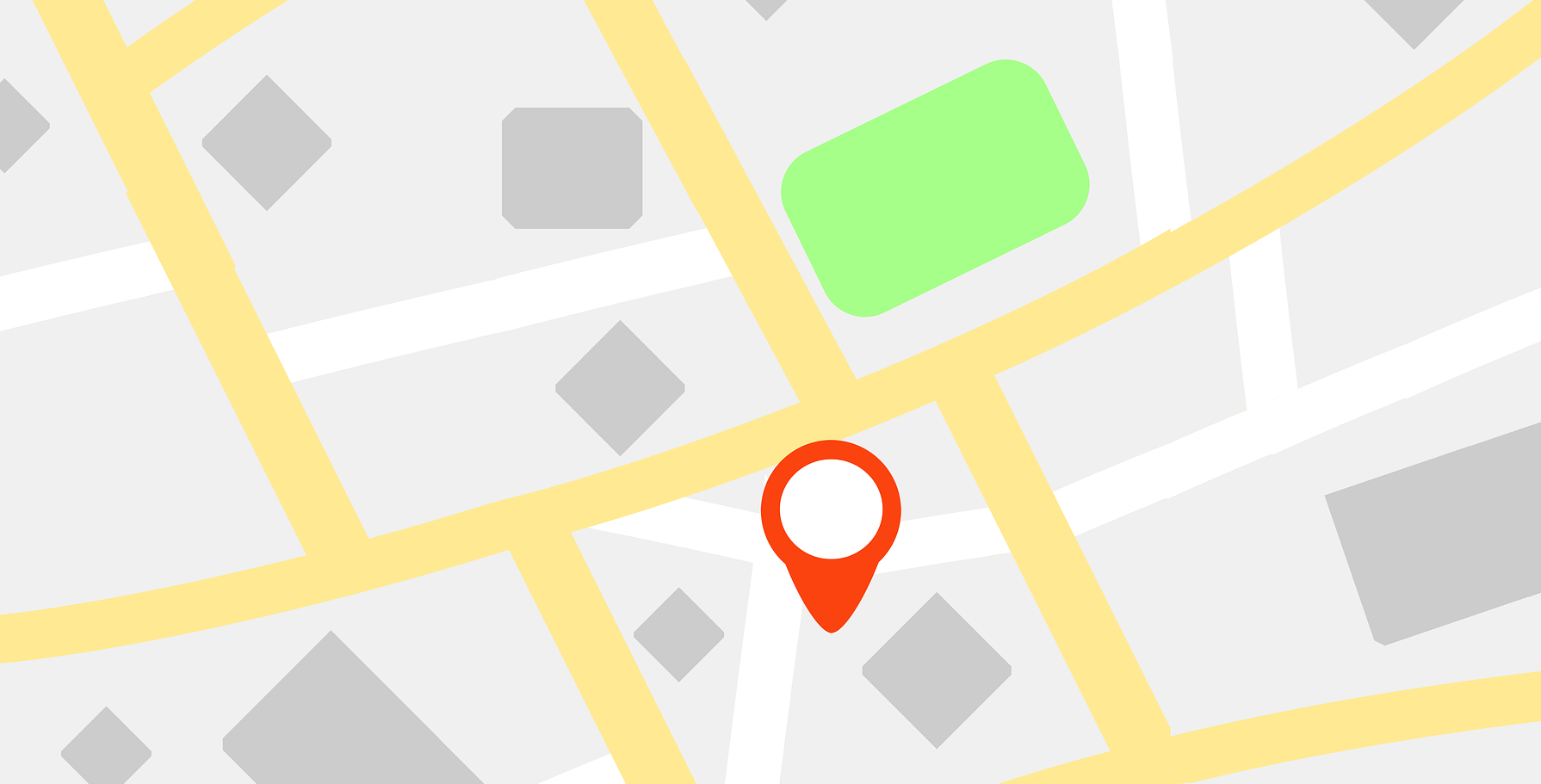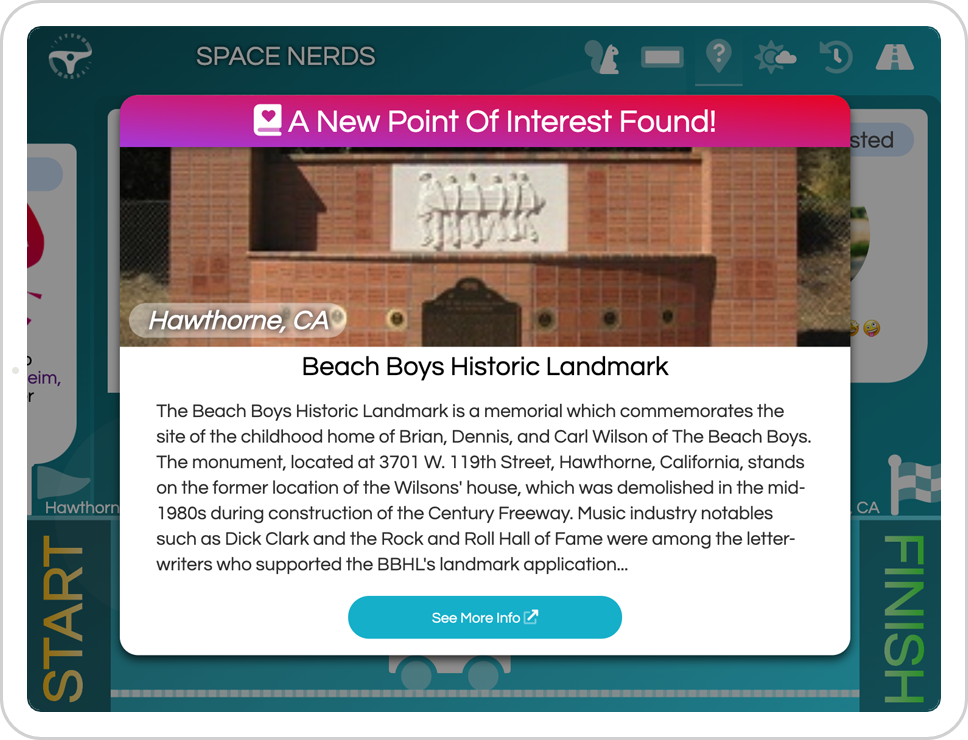 Easy to get started.
1
Go To A Station
Create or join a station where you can manage everything about the trip.
2
Add Travelers
Send a link to your friends and family, and update your profile pictures.
3
Begin your trip!
Set your destination, choose travelers, add games, and go!
Keep the fun going all year long!
Be a Road Tripper!
For only
$4.99 (lifetime)
, you get the full Travel Companion experience and stay updated with the newest games! The full Travel Companion experience includes:
An interactive, engaging, and family-oriented way to enjoy every road trip!
Multiple games to play by yourself or with your family or friends!
Rediscover your world with Points of Interests during your adventures.
Always be able to answer the classic road trip question, "Are We There Yet?".
Integrated compatability for Tesla™ owners.
Try 30 Days Free
No credit card required.
Frequently asked questions
Does everyone need an account?
No. You only need one account per family. Just share your Station's invitation link with all others that will be traveling with you.
A Station is your unique place to start trips, invite others, and play road trip games. You will share your Station Name with your family and friends when they join you on your travels!
Do I have to log in to join a Station?
No. All you need is the link or the Station Name.
Can more than 1 person play on a single device?
Yes. One device can be used for all players, if required. Travel Companion was designed with this in mind.
Can I play this on my tablet or phone?
Yes. The application is built to support most modern mobile and desktop browsers.
Can I play this across multiple vehicles?
Yes! As long as you are traveling in the same vicinity you can use this across as many vehicles as needed.
Why do you need my location while playing?
In order to know the distance remaining, current weather, and show Points of Interest, we need to know your current location. You can deny the request but, you will have limited functionality.
Does this work without an internet connection?
The application will continue to function in brief periods of connection interruption but will have limited functionality and be unable to respond to changes in location.
What ages can play Travel Companion?
Travel Companion is appropriate for all ages.
Do I have to play this on a Tesla?
No. That's just a benefit of the application for those who drive a Tesla.
Can I play while driving a Tesla?
No. Travel Companion was not built to ever be used by a driver of any vehicle. Please follow all safety regulations as a driver.
Help, I forgot the name of my Station!
Don't worry. Log in to your account. Your Station Name is in the top left corner under your profile picture.
Can I create more than one Station?
Each account can have one Station. If you need an additional Station you must setup another account.
What is a passcode, and why should I use one?
A passcode allows only trusted users to access your Station. Without a passcode, anyone with your Station Name can view and modify your Station.
How many people can play at one time?
There is no limit to the amount of users per station at this time.
What if two people find the same object or plate at the same time?
Travel Companion will allow a tie if two users are engaged in the submission process at the same time. You can also set your own rules for your travelers.
Show All FAQs